Easy to grow, cold-hardy and long-lasting – pansies are pretty much everything you could ask for in a flower! They are dainty little beauties that are suitable for planting in pots, on balconies and in flower beds.
Pansies are incredibly pretty little flowers that fit into most gardens. Not only are pansies easy to grow and use, they are also hardy and rewarding flowers. If you look after your pansies properly, they will bloom abundantly all season long. As well as adorning pots and flower beds, you can pick sweet little bouquets, press them or even use them to decorate pastries, cakes and biscuits.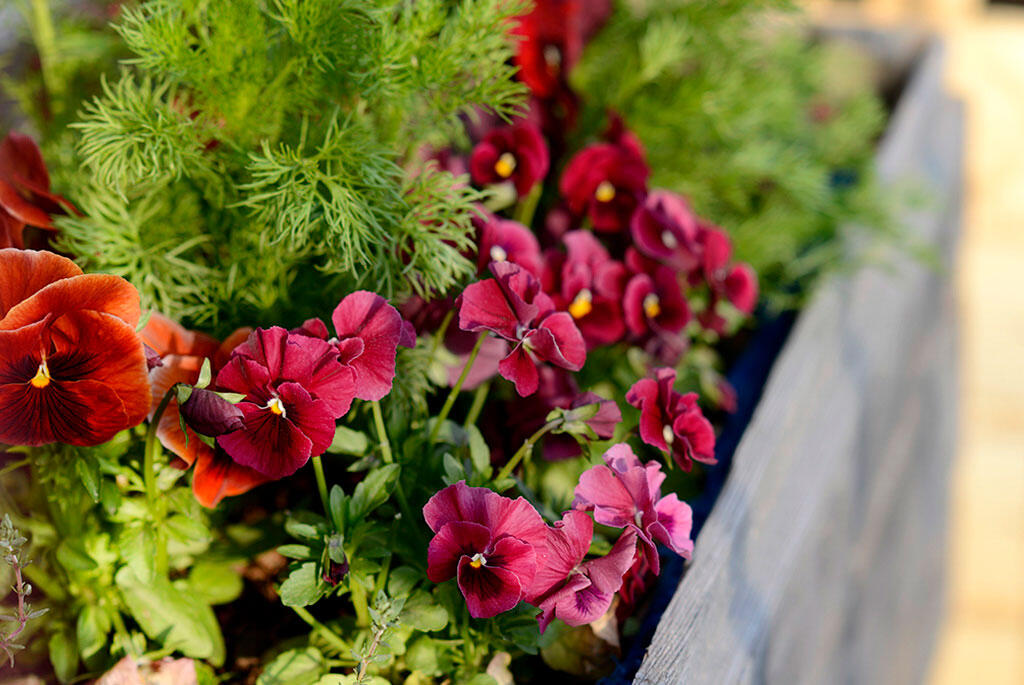 You can grow them anywhere, in balcony boxes, pots, flower beds or as a border plant in the garden. They come in an endless variety of beautiful colours and can have large or small flowers. Despite their dainty appearance, they are a tough little flower that can withstand a cold snap or two.
Sowing pansies
If you want your pansies to flower early, it is a good idea to sow them the year before. Ideally this should be done in July or August, so they have time to grow into a small plant before winter. The plant can be overwintered outdoors in many zones. Cover them with some mulch over the winter to protect them from the cold. If you live in a colder zone, it's best to put the plants in a more sheltered spot, such as a cool store room or a reasonably frost-free greenhouse.
Pansies can also be sown in the first months of the year.
Sowing pansies indoors
Fill a tray or pot with ordinary potting soil.
Sprinkle the seeds over the surface of the soil. The seeds should not be covered with soil, but if you wish you can cover them with a thin layer of vermiculite.
Water carefully – preferably using a spray bottle – and place the seeds in a mini-greenhouse or cover with plastic sheeting.
Place the pot by a window, preferably on a heat pad or above a radiator so the seeds germinate more quickly.
Once the seeds have germinated, it's best to place them in a cooler area that still gets lots of light – choose your brightest window or use grow lights.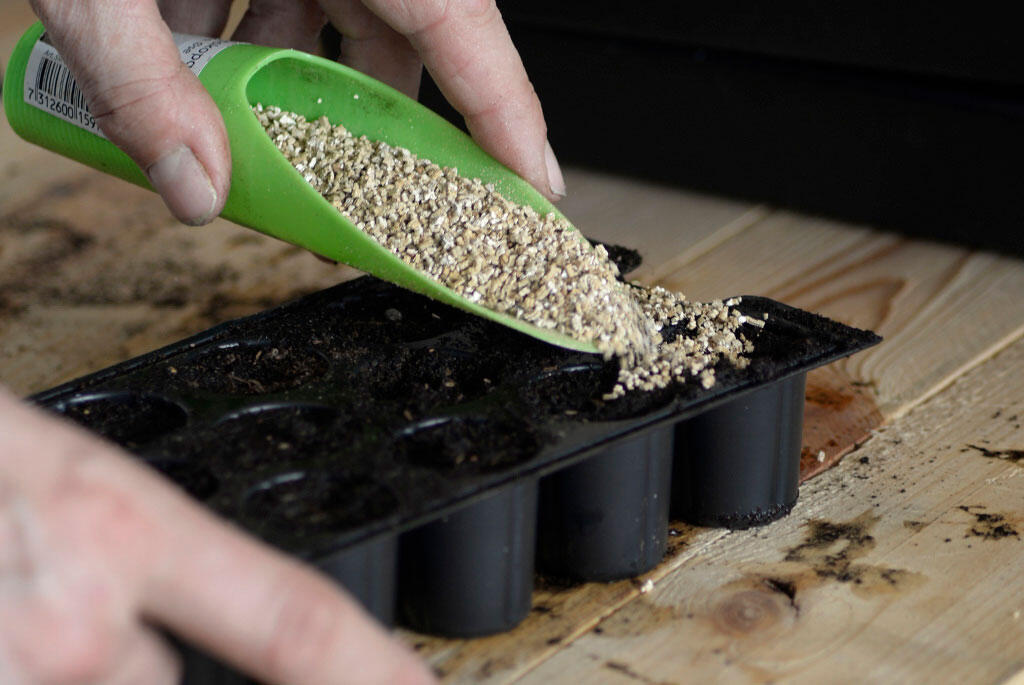 A thin layer of Vermiculite helps retain moisture.
Sowing pansies outdoors
Pansies can also be sown outdoors in pots or trays from February to March. In this case, cover the seeds with fibre cloth and put a large plastic cover over them. The plants should be repotted when they are large enough – once they have at least three little cotyledons – but preferably larger because they are so fiddly to work with otherwise. Place one plant in each pot.
Pansies can be sown outdoors in pots all summer long. They are a delightful little flower that is as pretty in spring as it is in the autumn.
Besides being easy to care for, they are frost-resistant, making them suitable for both early spring and the autumn.
Care
Plant them in a fine, well-fertilised soil, removing wilted flowers as they appear. Another important tip is to not only remove the flower but also the stem to which the wilted flower is attached. If the stems are left in place, the plants produce fewer flowers.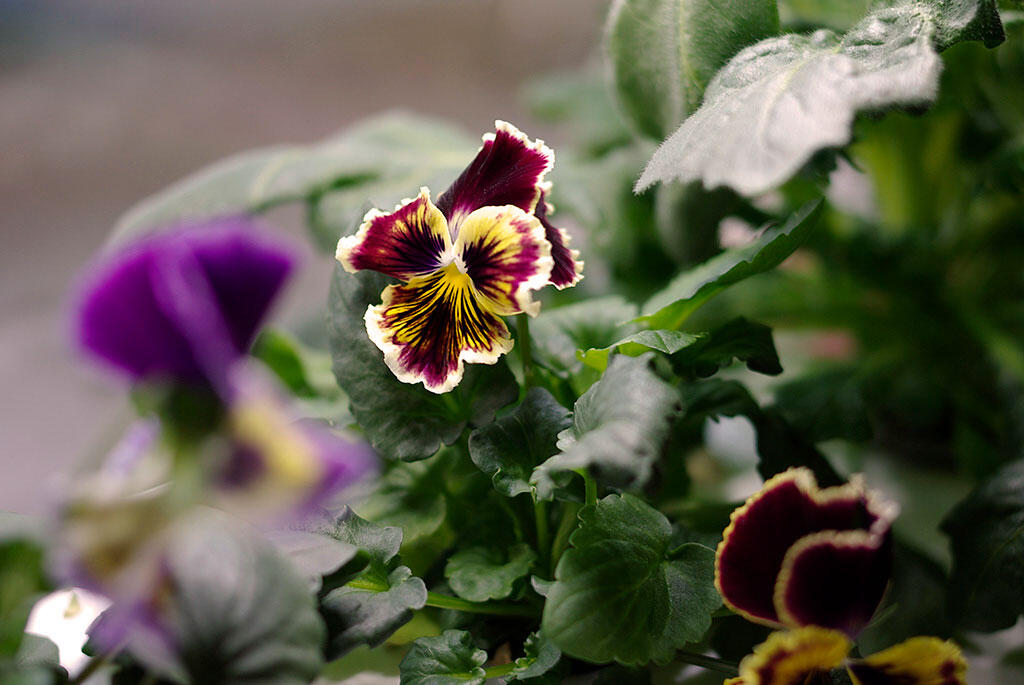 Pansies come in a variety of colours – and there are often multiple colours in a single flower! Photo: Lovisa Back
Don't throw your pansies away
Pansies are biennials, but if you want to use the pot for something else you can plant the pansies in the ground. There is almost always room for pansies in a bed or as a border plant. If you don't have space, you can give them away to someone who does.
Autumn planting!
If you still have pansies in pots and balcony boxes in the autumn, you can remove the whole clump of soil from the pot and plant them in an empty pallet collar or wherever there is space in the flowerbed. Later, nearer winter, add some mulch for winter protection. This also protects them from being eaten by hungry hares and deer. In spring, dig up the plants and put them back in pots with new, fresh soil. This way, you can enjoy them two years in a row and they will flower extra early in year two!
Pressing pansies
You can preserve pansies by pressing the flowers. They look stunning and you can enjoy them during the winter months.
Pick the flowers you want to press and place them between two flat surfaces under a heavy object to apply firm pressure. Leave them to press for at least 1–2 months. Old phonebooks are perfect and the right weight for pressing flowers. If you want to try pressing flowers and don't have any old phonebooks saved, you can use several books or another heavy item. If you choose to use books that you don't plan on rereading, you can put the flowers between the book's pages. If you're crafty, you can make your own flower press. Flower presses are also available to purchase.
You can use the pressed flowers in so many ways, such as for framed pictures or cards – the sky's the limit! Pansies retain their colour very well even when pressed.