This recipe for herby carrot pasta is perfect for days when you want a quick and easy meal. Suitable for lunch and dinner, or serve with grilled haloumi or chicken for an extra special treat. You might even find many of the ingredients in your own garden!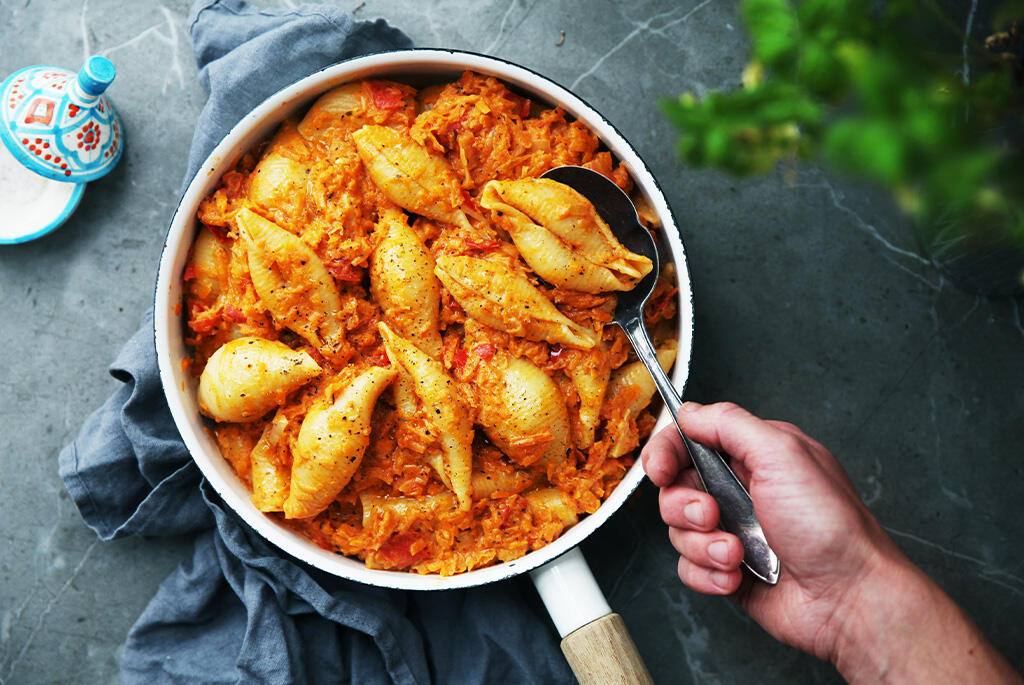 This dish is super creamy at the same time as being herby and full-bodied, with a little fresh acidity from the tomatoes. Use fresh tomatoes if you are preparing the dish during tomato season, or crushed tinned tomatoes or even frozen tomatoes from your summer stock in winter.
Herby carrot pasta | Serves 4
1 large onion

700 g carrots

750 g fresh tomatoes (or replace with 500 g crushed tinned tomatoes)

½ dl tomato purée

2 tsp dried oregano

1 tsp dried thyme

½–1 tsp dried rosemary

2 cloves garlic, crushed

3 ½ dl oat cream

½ dl olive oil for frying

Salt and black pepper
Peel and finely chop the onions. Peel or scrub the carrots and grate them on the coarse side of the grater. Cut the tomatoes into coarse pieces.
Sauté the onions and herbs in oil until the onions have softened, add the carrots, season with salt and sauté until the carrots have softened. Add the tomato purée and sauté for a few minutes. Add the tomatoes and sauté until the sauce thickens. Pour in the oat cream and crushed garlic. Simmer for about five minutes, season with salt and black pepper.
Serve with boiled pasta.