Once the squash plants have started to bear fruit, there are usually lots of fruits at once. It's important to have some good recipes to alternate between. These Korean pancakes are ready in a flash and make a perfect summer lunch when you don't want to spend much time in the kitchen but you still want to enjoy your home-grown harvest.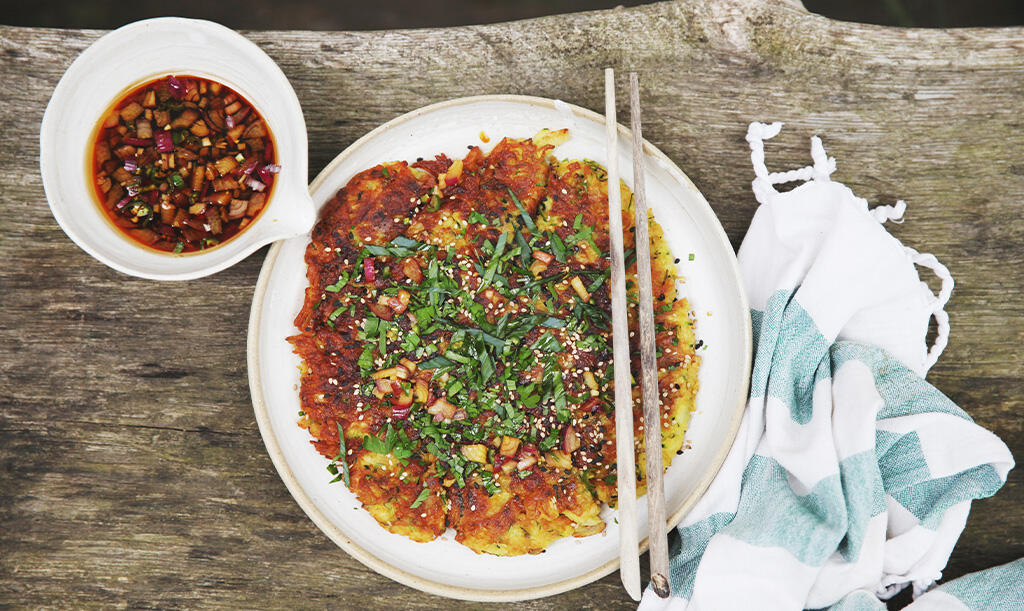 Squash, courgette or zucchini can be frozen, pickled or eaten raw, and that's a good thing because the plants tend to produce a lot of fruit. You can make stews, gratins, steaks and even bake with courgettes, just try them out in the kitchen and see what tastes best.
Korean courgette pancakes | 2 pancakes
300 g courgettes
1 onion
1 dl flour
½ dl cornflour
2 tsp baking powder
1 tsp salt, e.g. sea salt or Himalayan salt
Rapeseed oil for frying
Dipping sauce
50 ml Japanese soya sauce
1 tbsp lemon juice
2 tsp sesame oil
1–2 cloves of garlic
½ chilli (or add to taste)
1 small shallot
Grate the courgettes using the coarse side of a box grater. Peel and finely chop the onions. Place the courgettes and onions in a bowl and add the remaining ingredients. Stir with e.g. a wooden spoon so that everything is mixed together well. Heat plenty of oil in a frying pan and pour in half of the batter. Spread out the batter with a spoon so that it fills the frying pan evenly. Fry for a few minutes on each side or until nicely browned. If the pancake gets stuck, help to loosen it with a spatula and either turn it over with the help of a large plate or flip it over with the spatula. Repeat with the rest of the batter.
Cut the pancake into small pieces and eat with the dipping sauce.
Sauce
Finely chop the garlic, chilli and shallots and place them in a small bowl. Add the remaining ingredients and stir.
(The pancake in the picture has also been garnished with sesame seeds and shredded spring onions)