A scrumptious summer Swiss roll is quick to whip up, and you can vary the filling to suit your tastes and what's in season. When berry season is in full swing, it's perfect to make using the various berries the garden has to offer.
Serve a really delicious Swiss roll this summer with marinated strawberries. It's easy to make and can be made with a variety of summer berries. Why not try it with raspberries, blackberries or bilberries – which will be your favourite?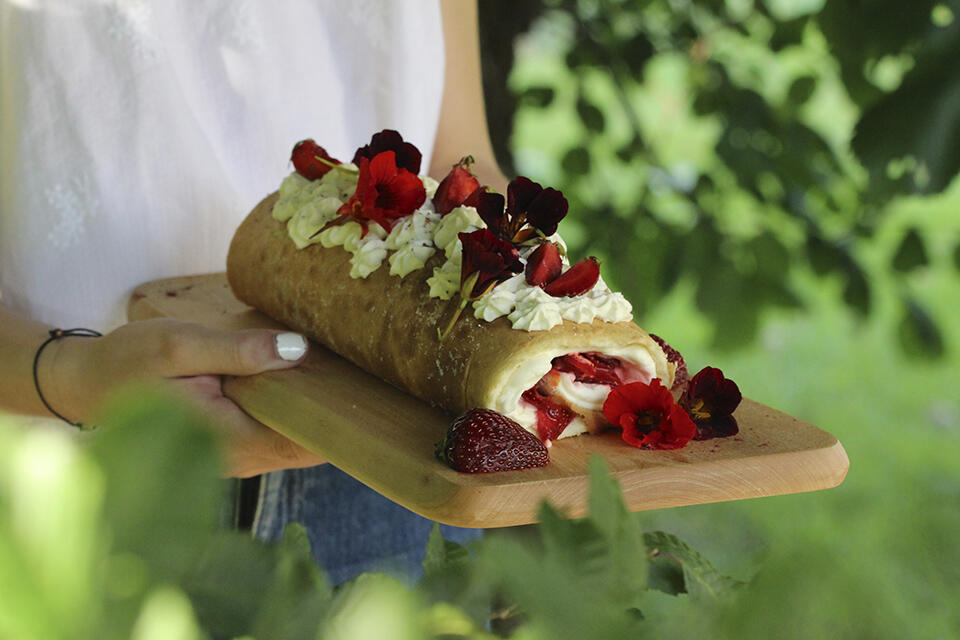 Swiss roll sponge

3 eggs

150 ml caster sugar

200 ml wheat flour

2 tsp vanilla sugar

1.5 tsp baking powder

2 tbsp milk
Berry filling

1 litre strawberries

2 tbsp liquid honey

1 lime
Whipped cream and cream cheese filling

200 ml whipping cream

100 g cream cheese

1/2 tsp vanilla powder

2 tbsp icing sugar
Method:
Rinse and slice the strawberries. Mix the strawberries and honey together with the zest and juice of one lime. Leave to infuse while you make the sponge.
Preheat the oven to 250 °C and line a baking sheet with baking paper.
Whisk the eggs and sugar until fluffy.
Mix the flour, baking powder and vanilla sugar together and fold the mix into the egg mixture.
Add the milk and gently stir until smooth.
Pour the mixture on to a baking tray and bake in the oven for 5–7 minutes.
Meanwhile, sprinkle a sheet of baking paper with a little caster sugar.
Turn the cake out upside down on to the sugar-coated baking paper and remove the baking paper on which the cake was baked.
Whip the cream and cream cheese together with an electric whisk until it thickens. Sift in the icing sugar and vanilla sugar and stir to combine.
Spread the cream mixture over the cake once it has cooled.
Strain the strawberries and distribute them evenly across the cream mixture.
Roll the cake up and garnish to taste.