Pallet frames are a great easy way to get started growing your garden.
Did you know that you can also turn a pallet frame into a greenhouse, a bed for germinating edible plants or summer flowers - or as protection for exposed plants using some simple hoops?
All you need are some curved hangers that you can attach to the top of the pallet frame. Once you've done that, you can lay plastic, fibre cloth or netting over the pallet frame hangers to create the perfect growing environment for your plants. It's an ideal way to germinate seeds, protect against pests and at the same time get a high yield of delicious crops or beautiful flowers.
It's also a great way to extend the season and grow crops that wouldn't normally survive outdoors.
The hangers are also known as pallet frame arches and are easy to install directly onto a pallet frame. Here are some ideas you can pick from to get the perfect solution for your garden: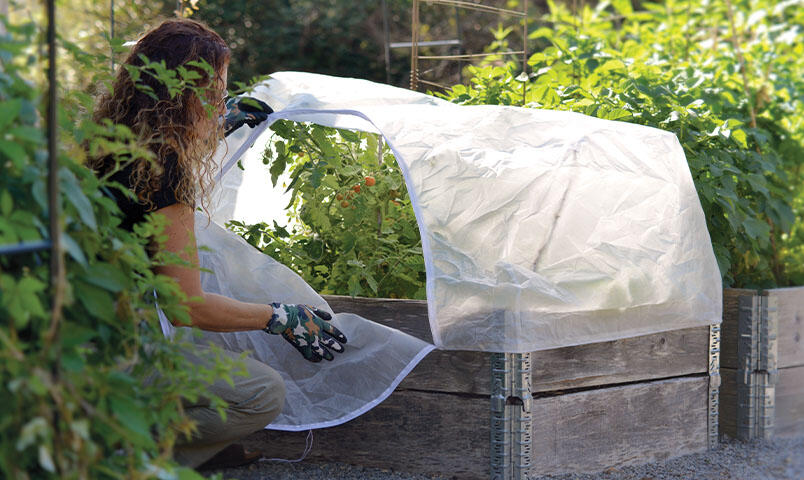 Pallet frame greenhouse
You can easily transform a pallet frame into a small greenhouse. Put pallet frame hangers down on the edge of the pallet frames and pull a piece of plastic sheeting over them. It's really that simple to have your own greenhouse in your garden.
With a pallet frame greenhouse, you can grow everything from lettuce and herbs to tomatoes and cucumbers. You can also use it for pre-germinating seeds to get an early start to the season.
On sunny and warm days, ventilate the greenhouse by lifting a little of the plastic film to allow fresh air to enter. If you leave the plastic film in place, the temperature can get so high that your plants will die.
If you grow starter plants in your pallet frame greenhouse, you also have the advantage that the plastic film also protects against storms and heavy rainfall in the form of cloudbursts or hailstorms.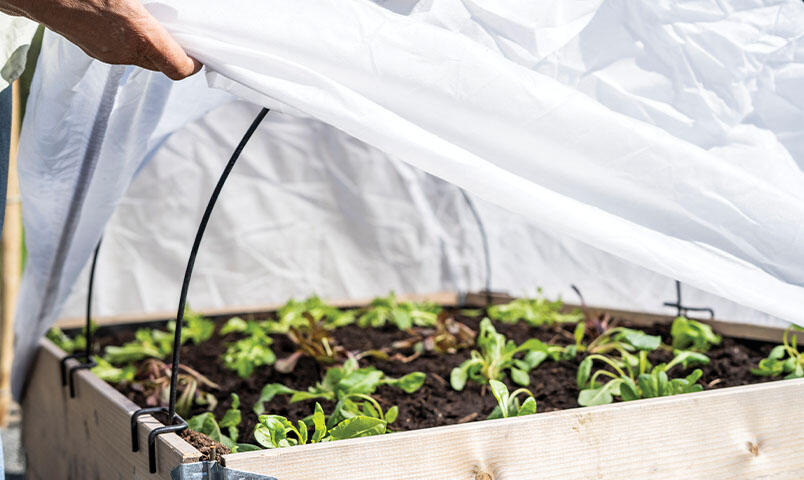 Fibre cloth for pallet frames
Another way to use pallet frame hangers is to cover them. For example, to protect your crops from pests. Fibre fabric has another very good function: it also protects against the cold - and especially if you put two layers of fibre fabric on the hangers, it has good insulating properties. You can take advantage of this when there is an early or late frost. If you put a couple of layers of fibre fabric over the arches of your pallet frames, you will be able to keep the frost away from your plants.
It is also a good defence against carrot flies and other small flies that can become pests for your crops.
The fibre will be like a greenhouse that is only lightly ventilated. So even though the fibre allows both air and water to pass through the fabric, it can get very hot under the fabric on sunny, warm days - and you'll need to remember to air it out.
A fibre cloth over a bed in a pallet frame will also protect against a torrential downpour, hailstorms or strong winds, thus protecting against the weather.

Nets for raised beds and pallet frames
If you know of challenges with cabbage butterflies or birds nibbling your crops, you can place a net over pallet frame hangers on your raised beds. They provide very good protection against the voracious butterflies, avoiding caterpillars in your cabbage plants.
A fine mesh net will also prevent other pests from getting into your crops. Use a net to cover your strawberry bed to prevent birds from eating them. Growing strawberries in pallet frames will be much easier this way. Make sure the net goes all the way to the ground in the pallet frame and keep it stretched over the hoops. A tight net also means that neither slugs and snails nor vine weevils can get to your strawberries.
Other benefits of pallet frames and raised beds
Combining pallet frames and pallet frame hangers opens up more possibilities for growing in a tunnel. With different types of covering such as plastic sheeting, fibre cloth, fine-mesh or coarse-mesh netting, you can optimise growing in your raised beds.
The soil warms up faster in a raised bed. This is because when the soil is lifted above ground level, it has a draining effect, so the soil simply warms up faster than wet soil.
If you're handy, you can also make your own diy raised bed. Four boards can be joined together, and if you use the measurements of pallet frames (80 x 120 cm), you also get the advantages of being able to use pallet frame hangers, pallet frame growing cloth, etc.